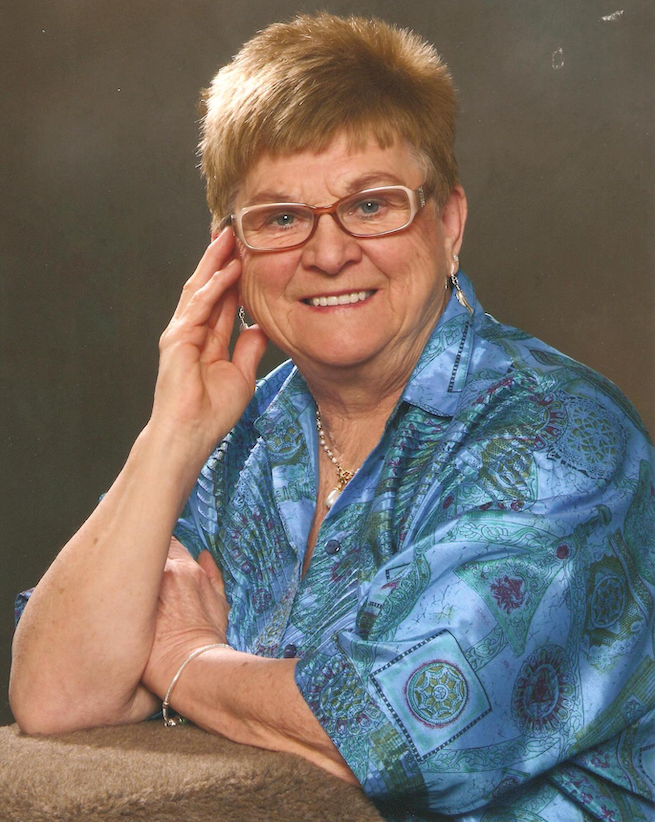 Share Your Memory of
Tatsy (Emma)
Obituary of Tatsy (Emma) Wilson
Please share a memory of Tatsy (Emma) to include in a keepsake book for family and friends.
Tatsy Wilson
August 4, 1944 - October 15, 2023
With heavy hearts, we announce the passing of our mother, Tatsy Wilson (Emma Mossleen Brekkas), on October 15, 2023 at the age of 79. She passed after a brief and very brave battle with cancer.
Tatsy was a beloved wife, mother, grandmother, great-grandmother, sister, aunt, and friend. Tatsy was born on August 4, 1944, in Dawson Creek, BC to Kaare and Kay Brekkas. She was the eldest of seven children and grew up in Clayhurst, BC on her parents' farm. She attended high school in Fort St. John, where she lived in the dorms and made many lifelong friends.
In 1961, Tatsy moved to Fort Nelson, BC to work as a camp cook. It was during her time in Fort Nelson that Tatsy met her late husband, Bill, and her best friend of more than 60 years, Jean Gordon. Tatsy has shared many memories with her family and friends of life in Fort Nelson during the 60's and all the adventures on horseback in the mountains, and the long trips in the riverboat she took with Bill prospecting and panning for gold.
Tatsy and Bill were married for almost 60 years and together, they raised four children: Lynn (Albert) Yake, Bill (Anita) Wilson, Michelle (Ian) Woodruff, and Jeanie (Fred) Wilson-Lemieux.
In 1972, Tasty and Bill moved to the farm in Clayhurst, BC, where they lived for the next 32 years. Tatsy worked tirelessly at establishing and supporting the local gymkhana club and spent 19 years driving the school bus.
In 2004, Bill and Tatsy sold the farm and moved into Fort St. John. They spent several years travelling around in their motorhome to Osoyoos, Penticton and Oliver in British Columbia and down to Yuma, Arizona.
Tatsy's favourite role in life was being a grandmother, and she doted on her twelve grandchildren: Dallen Wilson, Amber Harding, Brad Wilson, Logan Yake, Macki Wilson, Megan Wilson, Michael Wilson, Crawford Bell, Wilson Bell, Abigail Lemieux, Grace Woodruff, and Josie Woodruff.
She was also a great-grandmother, known as GG, to Madison Wilson, Gabriel Wilson, Olivia Harding, Everly Wilson, and Aiden Harding.
Tatsy was a woman of many talents. She was an avid sewer, knitter, and crocheter and was continually making items for family, neighbours, friends and friends of the family! It is estimated she has created thousands, if not tens of thousands, of items from sweaters and scarves to blankets and quilts to rugs and baby nests. She also loved to sing and play the guitar. Friends and family have shared many memories of being serenaded around a campfire by Tatsy over the years.
In the summertime, Tatsy could often be found camping in her motorhome with her children, grandchildren, great-grandchildren, family and friends. Her baking and cooking were unmatched, and no one ever left her house hungry.
Tasty was a kind and generous soul, and many people speak of her infectious smile and warm nature. She was predeceased by her sister-in-law (Sally Brekkas), parents (Kaare and Kay Brekkas) and husband (Bill Wilson).
She leaves behind her six siblings (Art (Sonya) Brekkas, Penny (Bob) Daunes, Kathy (Gary) Jordan, Robin (Lorna) Brekkas, Kim (Jake) Thiessen and Kyt Brekkas), four children, twelve grandchildren and five great-grandchildren; all who deeply miss and love her.
The family would like to extend a special thank you to the nurses and doctors at the Fort St. John Hospital for their care and attention in Tatsy's final days.
There will be no service at this time. However, a celebration of Tatsy's life will be held in the summer of 2024, with details to be determined.